News
5/6/18
2018 Shows and Recording With Bill Kirchen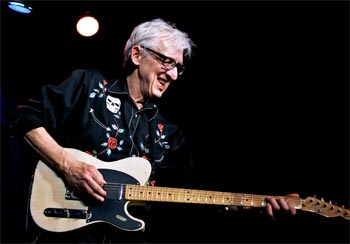 We've been waiting for the right time to break some big news, and a snowy spring day seems right. We're going to record another album this summer, and for the first time we've enlisted a producer to help us out. Who could be fearless enough to try to whip us Hi*Beams into shape, you might ask...well it's none other than Bill Kirchen, titan of the Telecaster, and bona fide American music legend!
Some of you may know Bill from his seminal work with Commander Cody in the '60s and '70s, or perhaps his time recording and touring with the likes of Elvis Costello, Nick Lowe and Link Wray, or his current standing as an Austin guitar god.
Just in case you haven't had the good fortune to hear Bill play and sing, we're going to do a couple of shows with him while he's in Colorado in July. First up is our annual Hops and Honky Festival, which will be on Sunday, July 1st at the Swing Station in Laporte. In addition to Bill, who we will back up, we've imported some more talent: The Carolyn Sills Combo from Santa Cruz. They're a killer western swing and rockabilly crew we met last summer in NorCal.
And we'll have Bill in tow at our annual 4th of July shindig up at the Gold Hill Inn.
This is super exciting for us! We've got a new batch of original tunes for the record, and we'll do one of Bill's, too, and of course let him loose on guitar on a few.
3/6/13
Skylark Chalkboard
We walked into the Skylark Lounge in Denver last weekend and here's the first thing we saw:
Chalkboard art courtesy of Joshua Finley, who does one of these every week. Josh also mans the skins for Denver country band Kris Harris and His Musical Heresies.
1/16/12
Live! at Hodi's to be released January 27th, 2012
by Greg Schochet
You asked for it, and we finally did it--a live Hi*Beams album!
Recorded in one night last winter in front of an adoring yet discriminating Fort Collins audience, Live at Hodi's is 15 tracks of pure Rocky Mountain Honky-Tonk. With three CDs of originals already in the catalog, Live at Hodi's features many of our most-requested covers, as well as some of our own tunes, all rocked out.

It's nerve-wracking knowing you're "playing to tape," but we did what we always do--had a beer and played and sang our hearts out. We're thrilled with how it came out and think you will be too.

So if you're local, come celebrate with us at Hodi's Halfnote in Fort Collins, scene of the recording itself. It'll be a festive night, what with a new CD and the fantastic Mama Lenny and the Remedy opening. If not, look for it on January 27th here on the website, iTunes, CD Baby, and Amazon.

If you don't like live albums...get the hell out!!
7/31/10
Dead on the Creek Festival
by Greg Schochet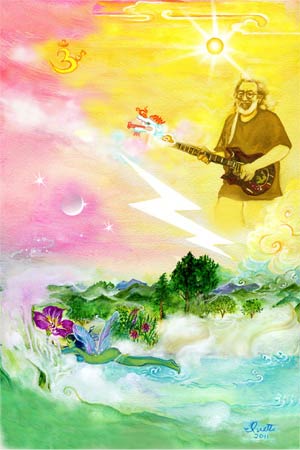 When I first joined the Hi*Beams in the fall of 2003, I was well aware that my path to that moment had been an unusual one. Long-haired Jewish Deadhead from Long Island becomes country-western guitar player in Colorado? Sounds like a pitch for a bad after-school special.
Still, my past was clearer than my future, and I soon mentioned to Halden that we should do a Grateful Dead song. "You know, something well known, like 'Friend of the Devil'." When Halden said "Never heard of it, but I like the name," I knew I had reached the other side.
Sure, I can see how you'd miss the Dead growing up in conservative Ft. Worth, but the Dead didn't miss country. Jerry Garcia himself said that Don Rich was the first electric guitarist who really knocked him out. And when Jerry sat down at his pedal steel with New Riders of the Purple Sage in 1969, the face of twang got a lot hairier.
And how else would I have gotten from bagels to Bakersfield? The first Merle Haggard or Marty Robbins songs I ever heard were sung by a cut-off-jeans-wearing Bob Weir, my first Hank Williams was likely Jerry crooning "You Win Again" on Europe '72. Hell, my first time in Texas was to see the Dead during freshman year in college
So before you hang me at high noon for turning the Hi*Beams into a hippie band, consider that those tie-dyed music-loving hordes didn't stop loving music when Jerry died. Turns out they still love to get together in beautiful places and get their boogie on for days at a time.
Which brings us to the Dead on the Creek Festival in Willits, CA. We'll be playing a 3 hour set there on Sunday, August 7th. Over 10 years running, DOTC is the brainchild of one Uncle John, one of a unique breed: old-school hippies committed to preserving a utopian live music experience. John books what he likes: if you've been in the Dead, played with somebody in the Dead, or sound like somebody from the Dead, you are probably welcome, but so is bluegrass, Celtic, jazz and even the Hi*Beams!
Four days in the wooded hills of Mendocino County with 400 music junkies, bands from all over the country, organic homemade food and libations...now that's country.
7/24/10
1st Annual Hops & Honky Tonk Festival
Colorado is the land of many music festivals, but we've never heard of one devoted to honky tonk. So of course we decided to start one of our own.
Our good friends at Oskar Blues Liquids and Solids gave us the run of their back patio for our festival site, and we took the opportunity to invite some of our friends and inspirations. Lineup features us (of course!), former BR549 frontman Chuck Mead and his band the Grassy Knoll Boys, Truckstop Honeymoon (hard to describe, but great!), and Longmont locals Bonnie and the Clydes. Longtime Boulder singer/songwriter Danny Shafer will be on hand to play some acoustic songs between sets.
It's a whole lot of really good music for just $10. We're thrilled to present this and hope to see you there.
Doors open 1:30 pm, show starts at 2 and goes until 8 or dark or everyone goes home. Show goes on rain or shine. Kids are ok, dogs aren't.
Preview music from the festival acts at www.hibeams.com/hops.
8/24/10
Cheyenne Frontier Days Train gig
by Greg Schochet
In some ways, the Denver Post Cheyenne Frontier Days Train gig is a negative image of all other gigs: It occupies the part of a day when we're normally not playing, 6:00 A.M. to 9:00 P.M. During the day, of course, we're usually traveling to play somewhere. In this case, we're playing on the transportation. Sure, it's not unusual for people to start drinking at 7:00...P.M.! Yup, the bar is open and and Brandon (best bartender ever) is awhirl as soon as the train leaves Union Station at 7:00 A.M. sharp. And oh yeah, at most gigs, the audience has to actually pay for their drinks.
So this one's a little different.
The first run was in 1908 at the behest of Frederick Bonfils, the Post's publisher and co- owner. Sounds like it was a schmoozefest for the Post's advertisers and business buddies in Denver and Cheyenne. While there's still some official "love you man" between CO and WY, I'd say it's more like a one day spring break for adults, rodeo-style.
Esteemed Denver bluegrass band Southern Exposure have roamed the cars for over 10 years. The Hi*Beams made one trip before Damon and I joined, and we think this year was our 5th with the current lineup. We play in the "dance car," but let's call a spade a spade: it's the bar car. Hardwood floors, and a bar. We strap the PA to the walls and ceiling, and surf the rocking of the rails as we play. The trip up takes about two hours, then a big barbecue lunch for all the passengers. Everyone gets tickets to the rodeo. Damon and I watched for an hour this year. We saw one bull rider get his face smashed, so it was a success.
The ride home in the bar car is undoubtedly one of the highlights of our year. Hot, crowded, rowdy dancing at 40 mph. On a historic steam train, with free booze. When you get tired of dancing, you can stand at one of the four oversize windows and wave at the hundreds of train buffs who line the route with their cameras. Pulling into Denver as the last of the sunset fades, everyone is wrung out and sleepy. And thinking about next year.