Electronic Promo Kit
On the strength of this one hour, I'd say that Halden Wofford & The Hi*Beams are in the running for Best Live Country Band in America.--John Conquest, 3rd Coast Music Magazine, Austin, Tex.
With an unapologetic embrace of the twang, Halden Wofford & the Hi*Beams ride out from the cutting edge cowtown of Denver, Colorado. Rootsy and real, neither revivalist nor retro, the Hi*Beams' brand of country music is as boundless and electrifying as America itself. From Red Rocks to rodeos, the Fillmore Auditorium to the back of a flatbed truck, to Prairie Home Companion, Kate Wolf Festival, and performing arts centers, Halden Wofford & the Hi*Beams deliver an unforgettable and original night of American music.
Video Sampler
Performance Highlights (Selection)
More than 1000 shows with the same lineup, all over the Western U.S. Below are some of the highlights:
Pagosa Folk 'N Bluegrass Festival, Pagosa Springs, CO (2010, 2019*)
Durango Bluegrass Meltdown, Durango (2019*)
Music in the Mountains, Big Sky, MT (2019*)
Bohemian Nights at New West Fest, Fort Collins (2006, 2008. 2014, 2019*)
Oriental Theater (w/Asleep at the Wheel), Denver (2019*)
Moxi Theater (w/Wayne Hancock), Greeley (2019*)
Gryphon Theater, Laramie, WY (2019*)
Peacetown Summer Concerts, Sebastapol, CA (2018)
Kate Wolf Music Festival, Laytonville, CA (2017)
Valhalla Art, Music & Theatre Festival, South Lake Tahoe, CA (2016)
West Coast Country Music Festival, Ashland, OR (2017-2018)
Strawberrry Music Festival, Groveland, CA (2013)
Four Corners Folk Festival, Pagosa Springs, CO (2013)
Northern Rockies Music Festival, Hailey, ID (2013)
Dead on the Creek Festival, Willits, CA (2011-145)
Uncle John's Rendezvous, Willits, CA (2016-17)
A Prairie Home Companion (2006)
Sisters Folk Festival, Sisters, OR (2012)
Beartrap Summer Festival, Casper, WY (2012)
Newpark Town Center, Park City, UT (2012)
Gold Hill Inn 4th of July Festival (2008-17)
Denver Post Cheynne Frontier Days Train (10 appearances beginning 2004)
Boulder Theater (w/Los Lobos) (2012)
Livermore Performing Arts - Bankhead Theater, Livermore, CA (2011)
West Side Theater, Newman, CA (2011)
Great Basin A&E (Martin Hotel), Winnemucca, NV (2011)
Governor Hickenlooper Inauguration, Denver, CO (2011)
Summer Nights at the Biopark, Albuquerque, NM (2011)
Grass Valley Summer Concert Series, Grass Valley, CA (2011)
Boulder Theater (w/Wanda Jackson) (2011)
Boulder Theater (w/Asleep at the Wheel) (2011)
Mount Helena Music Festival, Helena, MT (2011)
Helper Arts Festival, Helper, UT (2011)
Wet Mountain Western Jubilee, Westcliffe (2011)
Moab Folk Festival, Moab, UT (2008)
Buck Owens Birthday Bash, Continental Club, Austin, TX (2010) (Halden only)
Fruita Fall Festival, Fruita, CO (2009-2011)
Arvada Center, Arvada, CO (w/Asleep at the Wheel) (2006)
Arvada Center, Arvada, CO (w/Hot Club of Cowtown) (2005)
Rodeo Bar, New York City (2006)
Film on the Rocks, Red Rocks Amphitheatre, Morrison, CO (as backing band), 2009
Paradise Theater, Paonia (2003, 2008-10)
KRFC Birthday Celebration, Fort Collins (2010)
Starlight Ballroom Series, Solano, NM (2009-10)
Durango Acoustic Music Series, Durango (2009)
Music on Main, Bozeman, MT (2005-2007, 2010-11)
Alpenglow Concert Series, Crested Butte (2005, 2009)
Mesa Theater, Grand Junction, CO (w/Wayne Hancock) (2009)
Not SXSW showcases (Threadgill's, Guero's, et. al.) (2004)
Festivals, concerts, theaters throughout Rocky Mountain Region
Hundreds of club dates in Colorado, Wyoming, Utah, Montana, New Mexico, Texas, California, New York, Massachusetts, etc.
* means upcoming
Expanded Performance History | Current Calendar
Raves
Halden Wofford & the Hi*Beams' throwback and stylish take on the honky tonk genre is a breath of fresh air amidst other wannabe retro acts. With some of the choicest players on the Front Range and a professionalism that is bar-none, the Hi*Beams landed themselves on the famed NPR show 'A Prairie Home Companion' in recent years and Wofford's distinct vocals continue to garner the band well-earned attention. - Marquee Magazine, Boulder, CO
Halden Wofford is a poet. The tracks on his brand new project Sinners & Saints are rich, funny and poignant short stories that come all wrapped up in the amazing musical chops of the Hi Beams. There's no fast forwarding on this CD - it's Halden's tour de force and was well worth the wait. -- Mollie O'Brien
Halden Wofford and the Hi Beams are without a doubt one of my favorite bands to have play at the Inn. They always pack the place with a smiling, dancing die-hard crowd. And they take that crowd for a ride where no other country band would dare go. --Brian Finn, Owner and Talent Buyer, Gold Hill Inn
Promo photos
Click to Enlarge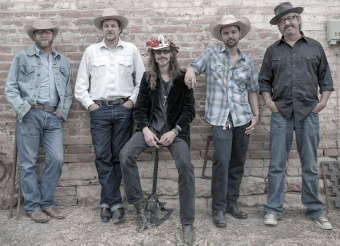 Blank Posters
Download for venue (PDF Format, 648k)
Download for venue (PDF Format, 2.2 M)