Web Store
CDs
Hard Core Broken Heart (2018)
Hard Core Broken Heart, the band's 6th studio recording, is the first that enlisted an outside producer. Bill Kirchen is known the world over from his seminal work with Commander Cody in the '60s and '70s, his time recording and touring with the likes of Elvis Costello, Nick Lowe and Link Wray, and his current standing as an Austin guitar hero.
As such, the album's tunes reflect both Halden Wofford's Texas meets art school view of the world and an unapologetic embrace of the twang.
With songs that hit the Broken Spoke, world religions, Philip K. Dick, an homage to the band's touring van, and Link Wray and Bill Kirchen covers, there's something for every country fan on your block. Also features special appearances by Mollie O'Brien singing and Bill on guitar.
What Can You Do (Halden Wofford)
Ashes on the Dance Floor (Halden Wofford)
Little Rig (Halden Wofford)
Rabbit Ears Polka (Bret Billings)
30 Pack (Damon Smith)
The Swag (Link Wray)
Womb to the Tomb (Bill Kirchen)
A Little Bit is Better Than None (Halden Wofford)
The Crossing (Halden Wofford)
Always Remembered (Halden Wofford)
Missing Link (2017)
Missing Link is a mature and powerful work that reflects the Hi*Beams' nearly 15 years of touring and recording. The album is anchored by a 5 song suite in which Halden reveals his means of surviving today's fearsome world. Features four new Halden Wofford originals, and Rocky Mountain Honky Tonked up songs by Johnny Cash, Link Wray, Lou Reed and Nick Cave.
Missing Link (Halden Wofford)
Guess Things Happen That Way (Jack Clement)
Fire and Brimstone (Link Wray)
White Light White Heat (Lou Reed)
The Ballad of Robert Moore and Betty Coltrane (Nick Cave)
Don't Ask Me Why (Halden Wofford)
Face the Devil (Halden Wofford)
Rodeo (Halden Wofford)
Rocky Mountain Honky Tonk (2013)
10 songs of 21st Century Colorado country music, recorded by five guys in four days. There are zombies, beaver-felt hats, '60s sports cars, dirty sex, and covers of Townes Van Zandt, Woody Guthrie and the Grateful Dead.
Rocky Mountain Honky Tonk (Halden Wofford)
Beaver Hat Boogie (Halden Wofford)
Loser (Robert Hunter/Jerome Garcia)
The Only Thing I Like (Halden Wofford)
Zombies! (Halden Wofford)
Pretty Boy Floyd (Woody Guthrie)
Reclamation Day (Halden Wofford)
Superbird (Halden Wofford)
White Freightliner Blues (Townes Van Zandt)
Brown Mountain Slave (Halden Wofford)
Sold out!
Live! at Hodi's (2012)
On the strength of this one hour, I'd say that Halden Wofford & The Hi*Beams are in the running for Best Live Country Band in America.--John Conquest, 3rd Coast Music Magazine, Austin, Tex.
Recorded in one night in front of an adoring yet discriminating Fort Collins audience, Live at Hodi's is 15 tracks of pure Rocky Mountain Honky Tonk. With three CDs of originals already in the catalog, Live at Hodi's features many of our most-requested covers, as well as some of our own tunes, all rocked out.
Just Don't Care (Kevin Yost)
Fat Boy Rag (Bob Wills/Junior Barnard)
Rose Marie (Rudolf Friml/Oscar II Hammerstein/Otto Harbach/Herbert Stothart)
Yodelin' Rhythm and Blues (Halden Wofford)
ABC (Halden Wofford)
Six More Miles (Hank Williams)
Angel of Death (Hank Williams)
Hippie In My House (Halden Wofford/Steve Novick)
Highway 61 Revisited (Bob Dylan)
All Along the Watchtower (Bob Dylan)
Best of All Possible Worlds (Kris Kristofferson)
Dire Wolf (Rober Hunter/Jerry Garcia)
Gotta Get Rid of This Band (Shel Silverstein)
Where Did You Sleep Last Night (Huddie Ledbetter)
Floyd Hill Whiteout (Bret Billings)
Sinners & Saints (2010)
Halden Wofford is a poet. The tracks on his brand new project Sinners & Saints are rich, funny and poignant short stories that come all wrapped up in the amazing musical chops of the Hi Beams. There's no fast forwarding on this cd - it's Halden's tour de force and was well worth the wait. -- Mollie O'Brien
The third Hi-Beams CD. Features live show staples such as Sinners and Saints, Tear It Down, Floyd Hill Brokedown, Pill Poppin' Country Weirdo and more.
Invocation (Wofford)
Tear It Down (Wofford)
Sinners & Saints (Wofford)
Fade Away (Wofford)
Mauvais Sang (Wofford)
Hey Bub (Billings)
Whippoorwill (Wofford)
Mr. Pain (Wofford)
Floyd Hill Broke Down (Billings)
The Ring (Wofford)
Mission Avenue (Wofford)
Dark and Cold (Wofford)
Pill Poppin' Country Weirdo (Wofford)
Hang Man (Wofford)
Say Goodbye (Wofford)
Till Night Is Through (Wofford)
American Angels (Wofford)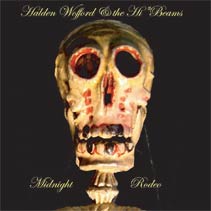 Midnight Rodeo (2007)
The second Hi-Beams CD. Featuring favorites from the live shows like Hippie in My House, Betty Boop, My Baby Hates Honky Tonks (w/KC Groves), Floyd Hill Whiteout and more.
Don't Care If I Do (mp3) (Wofford)
Betty Boop (Jacques)
Cajun T'Air (Wofford)
Blues Fallin' Down (Wofford/Yost)
Road to Old Mexico (Wofford)
My Baby Hates Honky Tonks (Wofford)
Love Police (Wofford)
Jealousy (mp3) (Wofford)
Hippie In My House (Wofford/Novick)
Flatfooted (Schochet)
Midnight Rodeo (Wofford)
Floyd Hill Whiteout (Billings)
Sold out!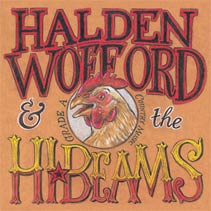 Halden Wofford and the Hi-Beams
Bye Bye Baby (mp3) (Wofford)
(My Other Car is an) Appaloosa (mp3) (Wofford)
Yodeling Rhythm and Blues (Wofford)
ABC (Wofford)
Billings' Bop (Billings)
Penny in the Fountain (Yost)
Long Gone (Yost)
Little Sue (Wofford)
New Lovers Waltz (Wofford)
Roll On (Wofford)
Let's Make Believe (Wofford)
Just Don't Care (Yost)
Sold out!
Movie
Skills Like This (Movie)
Hi*Beams provide some soundtrack and appear in a scene of this indie movie shot in Denver.